Login
Log in if you have an account
Dont have an account? Register
Chrismar Adventure Maps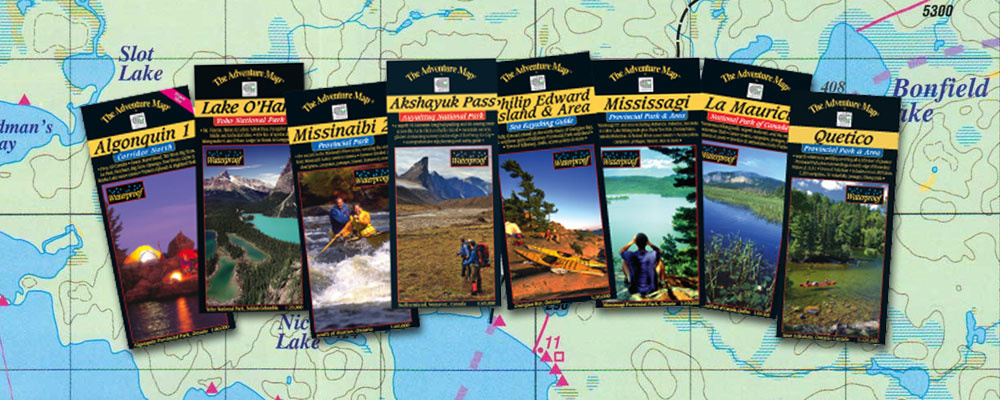 The Chrismar Adventure Map® is Canada's finest series of original topographic recreation maps featuring many of Canada's greatest Parks, like Algonquin Provincial Park, Arrowhead and Ragged Falls, and other popular wilderness recreation areas. It is a major change in the way wilderness recreation maps are made, in that this series is the only one in Canada that involves original, made from scratch topographic maps. There are over 40 titles available, with new titles released each year, along with regular updates every 2-4 years. They are receiving exceedingly favourable reviews with "the finest maps we're ever seen" is a regular comment by outdoor adventurers, map enthusiasts, park officials and the general user.
Designed for Adventurers
The Adventure Map® is specifically designed for outdoor adventurers such as hikers, backpackers, and paddling enthusiasts who need an accurate, up-to-date, rugged map to get them into and safely back from the wilderness. You'll find all kinds of innovations and enhancements not found on other maps. We've even eliminated those annoying declination problems for you.
Compact and Waterproof
The Adventure Map® is easy to read, and doesn't require instructions to help you with folding! Our maps are also waterproof. In fact, we print on specially-made, extra tough, waterproof plastic. We stomped, crumpled and drowned this stuff to be certain it won't let you down in adventurous (i.e. fog, rain, sleet, snow, sweat) situations. Use it as a water jug or rain hat in a pinch!
Loaded with Info
The Adventure Map® isn't just an exceptionally fine topographic recreation map; there's a bonus. We've also filled the other side of each sheet with colour photos and important information about the area including natural and human history, local regulations, outdoor tips, safety concerns, addresses, useful phone numbers and more. We work closely with Park personnel and other local experts who review every map and every word to ensure our research is accurate. There's also a detailed location map on the back cover. In short, a great guide to the outdoors!
Each Map Is An Original
The publishers of other recreation map series and guidebooks in Canada (and the USA too) simply trace outdated and generalized government topos. We don't! The Adventure Map® is an original. Initially, we use aerial photogrammetry to create a completely original contour map showing exceptional terrain detail, vegetation, trails, buildings, water and other features of greatest importance to outdoor adventurers. Other maps simply can't measure up because they are only reworked copies of generalized government topos.
We visit the site and conduct extensive field surveys of trails, campsites, portages, and other important features to ensure each map is accurate and fully up-to-date. Finally, our cartographer crafts all this information into an exceptionally detailed, exceptionally clear, full-colour map on one side, combined with detailed text and photographic information about the area on the other side.
Our goal is to make The Adventure Map®
the best outdoor recreation map you have ever seen.
www.chrismar.com