ROCKSHOX
No products were found matching your selection.
ROCKSHOX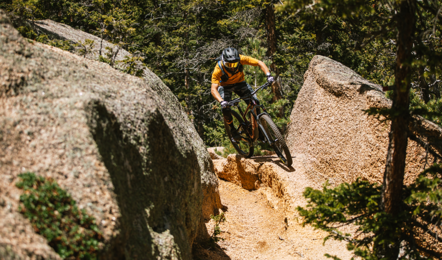 SRAM was founded on a single product in 1987 and introduced the Grip Shift (or twist shift) shifter to the road bike market in 1988. In 1991 that technology was adapted for mountain bikes, and SRAM quickly grew.
In 1995, eager to expand, SRAM introduced their first mountain bike rear derailleur, dubbed ESP, that featured a new and unique 1:1 cable actuation ratio that was more tolerant of cable contamination and easier to set than the competitors. The new derailleur was designed to pair perfectly with SRAM's ESP Grip Shifters, and this was a critical first step for SRAM toward producing a complete shifting system.
SRAM was eager to grow, both by acquisition and product development. By 1997, SRAM purchased Sachs, a legendary German manufacturer with expertise in chains and gearing. Sachs provided SRAM with a group of experienced metallurgists and engineers as well as a successful chain and internally geared hub production line.
SRAM's released its first XO rear derailleur in 2001. It was a complete redesign of SRAM's existing ESP derailleurs, and the goal was to be undeniably best in class. The introduction of SRAM's first high-end derailleur marked a turning point for the company's mountain bike groups.