Login
Log in if you have an account
Dont have an account? Register
Product details
A mellow flex rating, roomy fit, Hands Free Entry, Cushfit Comfort and a new, sleeker heat-moldable shell mean your feet will be swathed in luxurious comfort, allowing you to focus on getting to those steeper runs on the upper mountain.
SIZE
24.5
,
25.5
,
26.5
,
27.5
,
28.5
,
29.5
,
30.5
PRODUCT WEIGHT
1780g
BEST FOR:



FLEX/FEEL:

HANDS FREE ENTRY: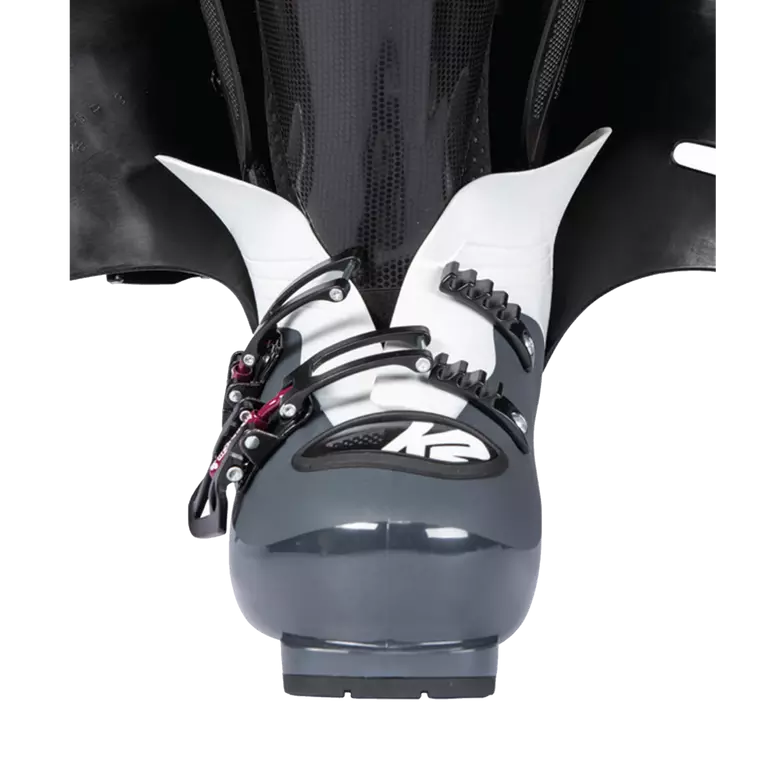 Dual material overlap for intuitive and easy hands-free exit and entry.
FULLY HEAT-MOLDABLE:
Both the boot's shell and cuff are capable of being heat-molded to a variety of foot shapes for a true custom fit.
GRIP WALK OUTSOLES:

Removable and interchangeable ISO 23223 alpine rockered soles collaboratively designed to work with Marker's Grip Walk binding system for better grip and added comfort when walking and standing in boots, but doesn't compromise the power transmission and release function between the boot and binding when skiing. Preinstalled.
CUSHFIT COMFORT:
Same great fit and out-of-the-box feel as our classic Cushfit liner, but with additional foam in key areas for increased comfort and compliance
| SHELL LENGTH (mm) | MONDO POINT  | US SIZES - MEN  | US SIZES - WOMEN  | EU. ADULT  | UK ADULT  |
| --- | --- | --- | --- | --- | --- |
| 264* | 22.5 | - | 5.5 | 36 | 3.5 |
| 266** | 22.5 | - | 5.5 | 36 | 3.5 |
| 268*** | 22.5 | - | 5.5 | 36 | 3.5 |
| 276* | 23.5 | - | 6.5 | 37.5 | 4.5 |
| 276** | 23.5 | - | 6.5 | 37.5 | 4.5 |
| 277*** | 23.5 | - | 6.5 | 37.5 | 4.5 |
| 282*** | 24.5 | - | 7.5 | 38.5 | 5.5 |
| 284* | 24.5 | 6.5 | 7.5 | 39 | 5.5 |
| 286** | 24.5 | 6.5 | 7.5 | 39 | 5.5 |
| 293*** | 25.5 | 7.5 | 8.5 | 40 | 6.5 |
| 294* | 25.5 | 7.5 | 8.5 | 40 | 6.5 |
| 296** | 25.5 | 7.5 | 8.5 | 40 | 6.5 |
| 301*** | 26.5 | 8.5 | 9.5 | 41.5 | 7.5 |
| 304* | 26.5 | 8.5 | 9.5 | 41.5 | 7.5 |
| 306** | 26.5 | 8.5 | 9.5 | 41.5 | 7.5 |
| 310 *** | 27.5 | 9.5 | 10.5 | 42.5 | 8.5 |
| 314* | 27.5 | 9.5 | 10.5 | 42.5 | 8.5 |
| 316** | 27.5 | 9.5 | 10.5 | 42.5 | 8.5 |
| 318*** | 28.5 | 10.5 | - | 44 | 9.5 |
| 324* | 28.5 | 10.5 | - | 44 | 9.5 |
| 326** | 28.5 | 10.5 | - | 44 | 9.5 |
| 326*** | 29.5 | 11.5 | - | 45.5 | 10.5 |
| 334* | 29.5 | 11.5 | - | 45.5 | 10.5 |
| 335*** | 30.5 | 12.5 | - | 47.5 | 11.5 |
| 336** | 29.5 | 11.5 | - | 45.5 | 10.5 |
| 344* | 30.5 | 12.5 | - | 47.5 | 11.5 |
| 346** | 30.5 | 12.5 | - | 47.5 | 11.5 |
Reviews
0 stars based on 0 reviews
Add your review
Review 2023 BFC 80 BLACK/GREY ALPINE BOOT